The topic of e-commerce is increasingly relevant, with mobile commerce transactions estimated to total $3.2 trillion in 2017. With this incredible growth, the process of owning and running an e-commerce store is becoming ever easier, with solutions like Magento and OpenCart eliminating some of the steps of getting started. However, an alternative comes in the form of one of the world's most popular content management systems: WordPress.
WooCommerce is an open-source plugin for WordPress, providing the tools to turn your blog into an e-commerce platform, just like over 171,000 other retailers already have. This article will take a look at everying that is WooCommerce: what it is, how you can use it and where to start with installation. We'll also take a look at a few great plugins and themes for WooCommerce that you can pick up to get your store looking and running just how you'd like it!
What is WooCommerce?
Developed by WooThemes, WooCommerce is one of the world's most popular, open-source e-commerce solutions. At the time of writing, WooCommerce has been downloaded more than 3.3 million times and current powers 12.72% of all e-commerce websites. That equals more than 250,000 sites!
WooCommerce is built on top of standard WordPress that's become the de facto package for blogs and many small websites. Just like any other plugin, WooCommerce is managed right from within your WordPress dashboard, providing access to a wealth of customization options for setting up your store just how you want to, from setting a currency to choosing your supported payment gateways.
WooCommerce supports the range of prerequisite features for running an e-commerce store; without extensions, the stock plugin provides the range of functionality needed to properly collect tax, arrange promotions and discounts, manage inventory, offer accurate status updates to customers and work with some of the most popular payment gateways and shipping services.
Additionally, WooCommerce powers a bunch of useful, dashboard-based reports and statistics for keeping track of the performance of your store, from easily checking what products are selling particularly well at a given time to investigating detailed information about particular products and categories.
WooCommerce is, itself, highly extensible. There's a variety of great WooCommerce plugins available for adding additional functionality to your standard WooCommerce installation, as well as many fantastic WooCommerce themes designed exclusively for the platform.
WooCommerce vs The World
WooCommerce is but one of many valid e-commerce solutions out there; it co-exists alongside popular alternative such as Magento, OpenCart and PrestaShop.
Late last year, we took to asking the community in the Marketplace forums about your favourite e-commerce platforms. WooCommerce came out top with, as part of the wider WordPress vote, 48% of participants saying it was their preferred e-commerce solution. OpenCart and Magento each held on to around 12% of votes while PrestaShop was awarded about 8%.
Tom Robertshaw's e-commerce survey—which was published in April this year and tracks the popularity of e-commerce software on some of the world's busiest and most populous sites—was also telling of WooCommerce's love. In the results, WooCommerce was shown to be the second most popular e-commerce platform, only topped by Magento.
The extensibility of WooCommerce versus other e-commerce packages is also clear. On the Marketplaces alone, over 300 WooCommerce plugins are available, more than for any other e-commerce software. Of course, WooCommerce is uniquely built on top of core WordPress, meaning e-commerce features can live alongside traditional blog content that can be powered by more than 31,000 WordPress plugins.
When to Use WooCommerce
WooCommerce is a fairly versatile e-commerce platform, suitable for large stores carrying an extensive inventory to those that only hold a few. If you're already using WordPress as a blogging platform, WooCommerce makes it easy to offer a few selected products for sale without the hassle of setting up and managing a full-blown, dedicated store. If you're a blogger who only wants to offer an easy way to buy their new book, WooCommerce is the way to go.
WooCommerce offers a wide range of additional functionality beyond just retailing your own goods too! WooCommerce supports affiliate products – functionality extended by the wide range of plugins available – meaning it's incredibly straightforward to begin marketing affiliate products to your readers. If you've been talking a lot about your favourite book or film, this package offers an intuitive means of offering your customers an easy way to buy whilst earning you a bit of affiliate commission.
Setting Up WooCommerce
If you've decided WooCommerce is for you, the installation process is pretty straightforward.
You can install WooCommerce right from within your WordPress dashboard, by navigating to the Plugins section in the dashboard menu and selecting Add New. From there, simply search with the keyword WooCommerce and choose Install Now next to the official WooCommerce – excelling eCommerce result.
When WooCommerce is installed, setting it up is even easier. All of WooCommerce's e-commerce features are managed exclusively through two dedicated sections within your regular dashboard.
Adding products is just like adding posts, and can be managed through the Products menu. Simply click the Add Product button to enter a name, description and sales details (such as price, category and a weight for shipping). Then, simply hit the Publish button to add the product to your store front.
Everything else about your store is managed through the WooCommerce menu. From the tabbed interface of the Settings section, you can select a group of options to modify (tax, shipping and payment gateways) and use the straightforward page to modify them. In most cases, changing one of these options simply involves choosing a desired radio button or entering a value into a text field.
Extending WooCommerce
WooCommerce is built upon core WordPress meaning that it can take advantage of the thousands of standard WordPress plugins available to all, non-e-commerce blogs. However, even WooCommerce itself can be extended with a range of great themes and extensions available to add fantastic new features to your store. Here's a few to get you started.
Bazar Shop is a beautiful, clean e-commerce theme for WooCommerce sites. This theme is fully brandable so you can make your WooCommerce store your own while still taking advantage of the great features in Bazar Shop, including premium image sliders, hundreds of custom WordPress shortcodes and a wishlist feature.
This aptly named theme, The Retailer, is a minimalist store theme with a massive premium image slider for showcasing your favourite products and current offers. The Retailer is fully responsive and optimised for Retina-quality displays allowing you to fully take advantage of your potential mobile shoppers.
Viroshop is a modern, fully-responsive e-commerce theme. Perfect for clothing though well suited to any category of the product, Viroshop includes a bunch of customization tools to fully brand your custom store. Viroshop also includes a variety of custom widgets and shortcodes to extend the functionality of WooCommerce.
WooCommerce Amazon Affiliates is a plugin which adds additional functionality for managing a store that directs customers to Amazon for purchasing while participating in the commission-based affiliate program.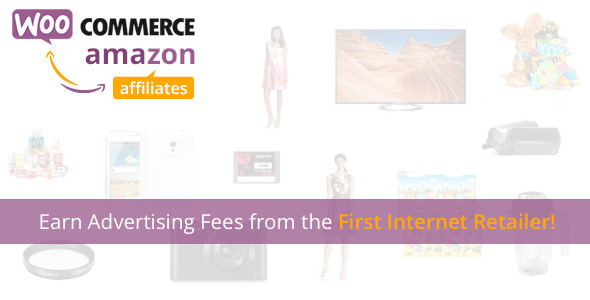 Want to encourage your customers to sign up to a mailing list? This plugin adds MailChimp integration to WooCommerce, offering customers the chance to tick a box during the checkout process to sign their email up to your MailChimp mailing list. The plugin will capture the customer's name and email address – the same they need to enter anyway to checkout – when they opt in and even allows you to choose a custom checkbox label.
Table Rate Shipping is a simple, but useful, extension which offers a premium alternative to WooCommerce's stock shipping options. The plugin allows you to add create custom rates for customers based on conditions like destination, cart value and item weight.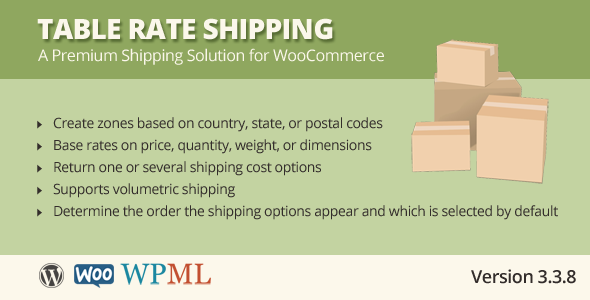 Conclusion
WooCommerce is an awesome way of setting up your own store, especially if you already know and love WordPress. You can find more great WooCommerce themes and WooCommerce plugins on the Marketplaces, or learn more about using WooCommerce at Tuts+.